VOX Cinemas at Al Jimi Mall
Whether you're watching The Avengers' latest adventure or a Hrithik Roshan action epic, VOX Cinemas at Al Jimi Mall is an experience to remember. Hear every whisper with the latest in audio surround-sound and escape to words unlike anything you've seen before with breath taking screens. Treat yourself with our wide variety of delicious snacks and drinks. Get comfortable with our spacious seats. You can't go wrong at VOX Cinemas, Al Jimi Mall.
Cinema Location: Level 1
Address:Hamdan Bin Mohammed Street
EXPERIENCES AVAILABLE
Try something new every time you visit VOX Cinemas. With over eight unique moviegoing experiences, you'll never get tired of watching movies in style! How will you be watching the latest blockbusters?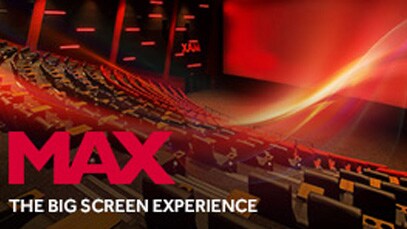 MAX
The magic of movies begins when you escape into worlds that are larger than life.
---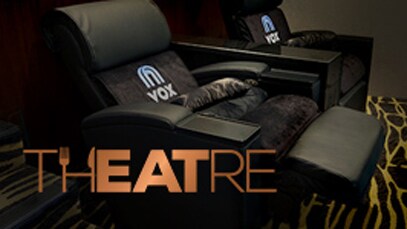 THEATRE
We've revolutionised the luxury cinema experience to give a whole new meaning to dinner and a movie. Enjoy the exclusive private lounge while you make your selection from a gourmet menu with fine food and refreshing mocktails.
---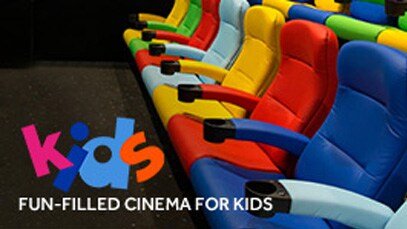 KIDS
KIDS is a unique cinema concept built just for little movie fans. Children and parents can watch the latest animation, action and adventure films in our family-friendly colourful cinemas.
---
Food and drinks
For every film, there's the perfect snack. Whether it's sweet or salty popcorn, chocolate treats, or something a little more sophisticated, VOX Cinema's selection of food and drink complements your viewing experience perfectly.
Use the VOX Cinemas app to order in advance and have your food waiting for you when you arrive – no hassle, no queues! Choose from a huge variety of treats from outlets such as:
Desi Special – a mouth-watering selection of spicy desi treats like onion bhaji and dal vada
Indian Tadka – try a spicy twist on that cinema favourite with a delicious seekh kabab hot dog
Fresh and Flavourful – delicious healthy choices that don't compromise on taste, like Parmesan truffle fries or a Reuben hot dog
THEATRE – sumptuous food for the ultimate movie night experience, like a gourmet burger with all the trimmings
Candy Bar – indulge your sweet tooth with delicious treats like sweet and savoury popcorn or a selection of candy bars.
You've got lots of other treats to enjoy too, like Magnum ice creams, tasty waffles smothered in creamy Nutella, or a full, three-course meal at THEATRE.