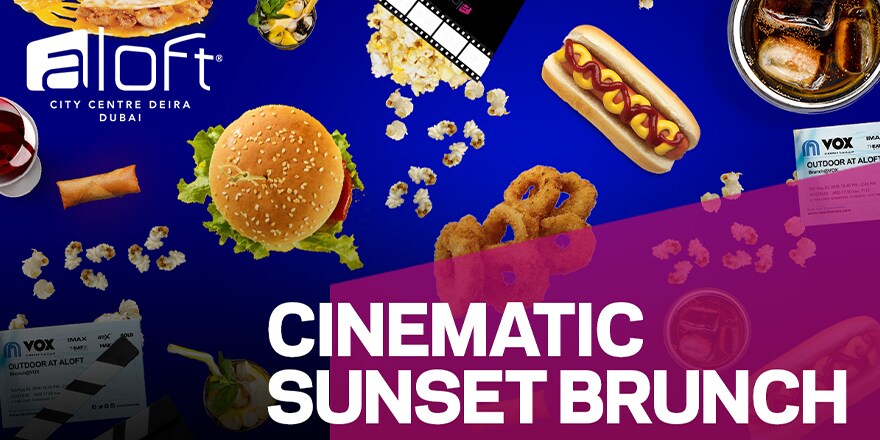 Cinematic Sunset Brunch
The first of its kind, enjoy the latest movie under the stars while you dine in a delicious variety of food and beverages!
Sit back and relax with our cinematic sunset experience. Watch the latest movie at OUTDOOR at Aloft City Centre Deira and choose from our brunch packages for a range food, with a soft or house bevvie included.
Q. How can I reserve the seats and pay?
A: We can tentatively reserve your seats over the phone; payment is to be processed at OUTDOOR at Aloft City Centre Deira on the day of the movie.
For enquires please call: +971 4 210 3335
Q: What are the timings and where is it located?
A: Every Friday at 5pm at OUTDOOR (Level 4) at Aloft City Centre Deira
Q What are the brunch packages?
AED 95 for a soft beverage package
AED 110 for house beverage package
AED 140 to upgrade to free flowing house beverage package
All prices include the movie ticket price
Q. What the F&B included?
A: on a tray you receive Mini Hotdog, Chicken Quesadilla, Vegetable spring roll all served with onion rings and French fries.
There is also a vegetarian tray: Veg burger, spring roll and served with onion rings and French fries
Nachos + popcorn are available on the table
Q: How do I know which movie is playing?
A: Please visit @AloftDubai or call us to find out what movie is playing for the week.