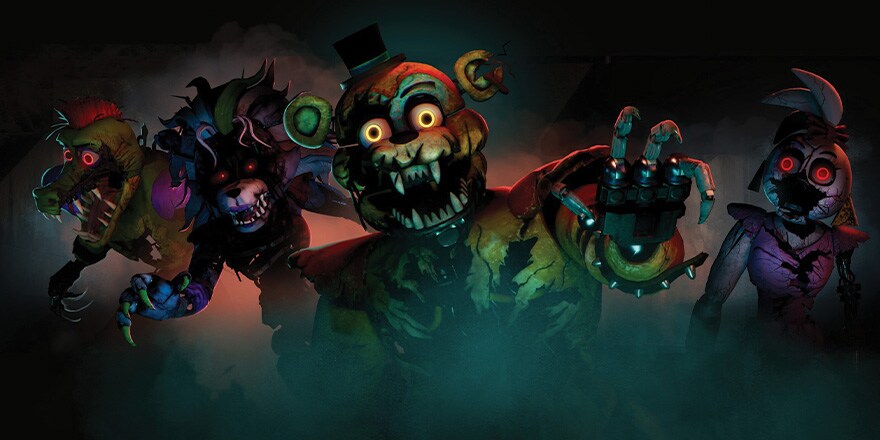 FIVE THINGS YOU SHOULD KNOW ABOUT FIVE NIGHTS AT FREDDY'S
Blumhouse and Universal Studios will be releasing the supernatural horror Five Nights at Freddy's on 26 October. Based on the immensely successful video game franchise, the film follows Mike Schmidt, a security guard, who accepts a night-time job at Freddy Fazbear's Pizza – A once successful but now abandoned family entertainment center.
The film stars Josh Hutcherson (The Hunger Games), Elizabeth Lail (You), and Matthew Lillard (Scooby-Doo) and is directed by Emma Tammi with a screenplay from Scott Cawthon – the creator of Five Nights at Freddy's.
Before you start the night shift at Freddy's, we want to take you through five things you need to know about FNAF.
1. IT'S BASED OFF A HIGHLY SUCCESSFUL VIDEO GAME FRANCHISE
Fans of the video game will already know this, but for those of you who are going in without prior knowledge of the franchise, Five Nights at Freddy's is a franchise that launched in 2014 as a simple point and click game. It quickly spawned into a multi-media franchise with over twelve video games, 30 novels, music, board games, merchandise and an extremely dedicated fanbase.
Some of the franchises' success can be attributed to YouTubers and streamers, who played the games on their channels. Game Theory, Markiplier, PewDiePie and countless others helped popularize the game – with FNAF videos amassing hundreds of millions of views combined.
2. THE FRANCHISE IS FULL OF LORE
While there a plenty horror franchises out there that are scary simply for the sake of being scary, Five Nights at Freddy's is not one of them. The games, novels, and upcoming film are packed with lore, easter eggs, and references that when combined build a very layered and thought-out story packed with mystery, tragedy, and compelling backstories.
In-game incidents such as the Bite of '83 and the story behind characters like Springtrap are all too familiar for FNAF fans but will leave newcomers on the edge of their seat with anticipation.
3. IT GOES BACK TO THE BEGINNING
If all this talk of lore, backstories, and references is overwhelming to you as a newcomer, rest assured the film will be going back to the basics. Five Night's at Freddy's will primarily follow the events of the first game, giving longtime fans and first-time viewers a fresh start to discover (or rediscover) the story of Freddy Fazbear's Pizza.
Sit back, relax, and grab a slice. You're in for an exciting, terrifying, and all-new adventure with Freddy. Nothing can go wrong… right?
4. THE ANIMATRONICS ARE REAL
There is no Five Nights at Freddy's without the titular animatronic and his gang – Freddy, Bonnie, Chica and Foxy. They're the heart of FNAF. When the film adaptation was announced, however, fans were left wondering how the filmmakers were going to pull off their iconic looks in live action.
Any and all concerns fans might've had about the character designs were quickly thwarted once Jason Blum, the film's producer and CEO of Blumhouse, confirmed that they were working with Jim Henson's Creature Shop – the special/visual effects company behind The Muppets and Sesame Street. The Creature Shop had created real animatronic models for the film that accurately represent the characters.
5. IT'S BEEN A LONG TIME COMING
The films rights for Five Nights at Freddy's were first acquired in 2015, one year after the release of the first game. Now, in 2023, we're finally about to see FNAF come to life in live-action.
Matthew Lillard, who plays William Afton in the film, confirmed that he's signed a three-picture deal with Blumhouse to star in two more Five Nights at Freddy's sequels. We can only hope that the extremely successful game franchise spawns an extremely successful film franchise so that we can return to Freddy Fazbear's Pizza in the future.
Five Nights at Freddy's releases at VOX Cinemas on 26 October. Stay tuned for advance tickets here tickets and enjoy VOX Cinemas. Stay tuned for advance tickets here and follow us on Facebook, Instagram, TikTok, X and Threads to stay up-to-date on the latest movie new and check back here for more VOX Voice articles.