THEATRE BY RHODES AT VOX CINEMAS
We've partnered with Michelin star chef Gary Rhodes to revolutionize the luxury cinema experience and give a whole new meaning to dinner and a movie. Enjoy the exclusive private lounge while you make your selection from the menu which includes Rhodes' lobster, Chicken Caesar tacos and foie gras panini.
NOW SHOWING IN THEATRE by Rhodes

What can you expect at ThEATre by Rhodes?

Menu created by Michelin star chef Gary Rhodes
Reclining seats with adjustable foot rest, blanket and pillow
In-cinema waiter service with call button on seats

Watch your next movie in ThEATre by Rhodes at:
Conditions of Entry:

Entry is only for guests above 18 years of age. Guests between 5-18 years can enter if accompanied by a guardian
The age restriction assigned to the movie classification must be complied with.

Craving an adrenaline rush? Book your Fast & Furious 8 tickets at ThEATre by Rhodes and pair it with the themed Fast 8 platter!
The platter includes:
Two pieces of southern fried chicken with smoky chipotle sauce and b-b-q coleslaw
Florida style chilli prawn taco with avocado and corn salsa
Two Chicago style hot dogs with tomatoes and home-made green chilli relish
Fries
Non-alcoholic beer
Available exclusively at VOX Cinemas, Mall of the Emirates, Yas Mall and Nation Towers (Abu Dhabi)

THEATRE BY RHODES EXPERIENCE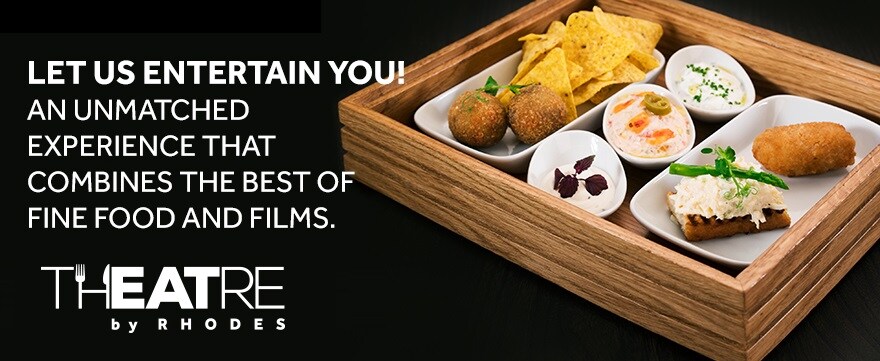 VOX Cinemas and Michelin star chef Gary Rhodes have created the perfect experience, combining the best of fine food and film.

Priced at AED 295, the experience includes:
One THEATRE by Rhodes ticket for any movie of your choice
Choice of one starter, main and dessert
Choice of one mocktail/beverage
Choice of tea/coffee
Save up to AED 175

Available exclusively at VOX Cinemas, Mall of the Emirates, Yas Mall and Nation Towers (Abu Dhabi)