Distraction-free Screenings
Step In. Zone Out.
For the First Time in the Middle East
Every movie lover knows that the best thing about going to the cinema is being able to lose yourself in the story onscreen.
Distraction-free screenings are for true movie fans who value good cinema etiquette and are committed to creating a peaceful movie-watching environment.
Every guest in the auditorium will be bound by the following golden rules:
No talking: Once the movie starts, our in-cinema staff will ensure that talking is kept to an absolute minimum.
No phones: All phones (and smartwatches) will be on silent mode or switched off.
No late arrivals: If someone shows up after the movie starts, they've missed it.
No guests under 18: No one under the age of 18 will be permitted to enter Distraction-free Screenings, regardless of the rating assigned to the movie.
Our ninja-like staff will be surveilling the cinema in stealth mode. Anyone spotted talking or using their phones will be asked to leave immediately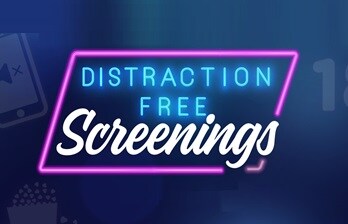 Everything You Need To Know
Want to know more about our Distraction-Free screenings? Here's everything you should know before you attend.
---