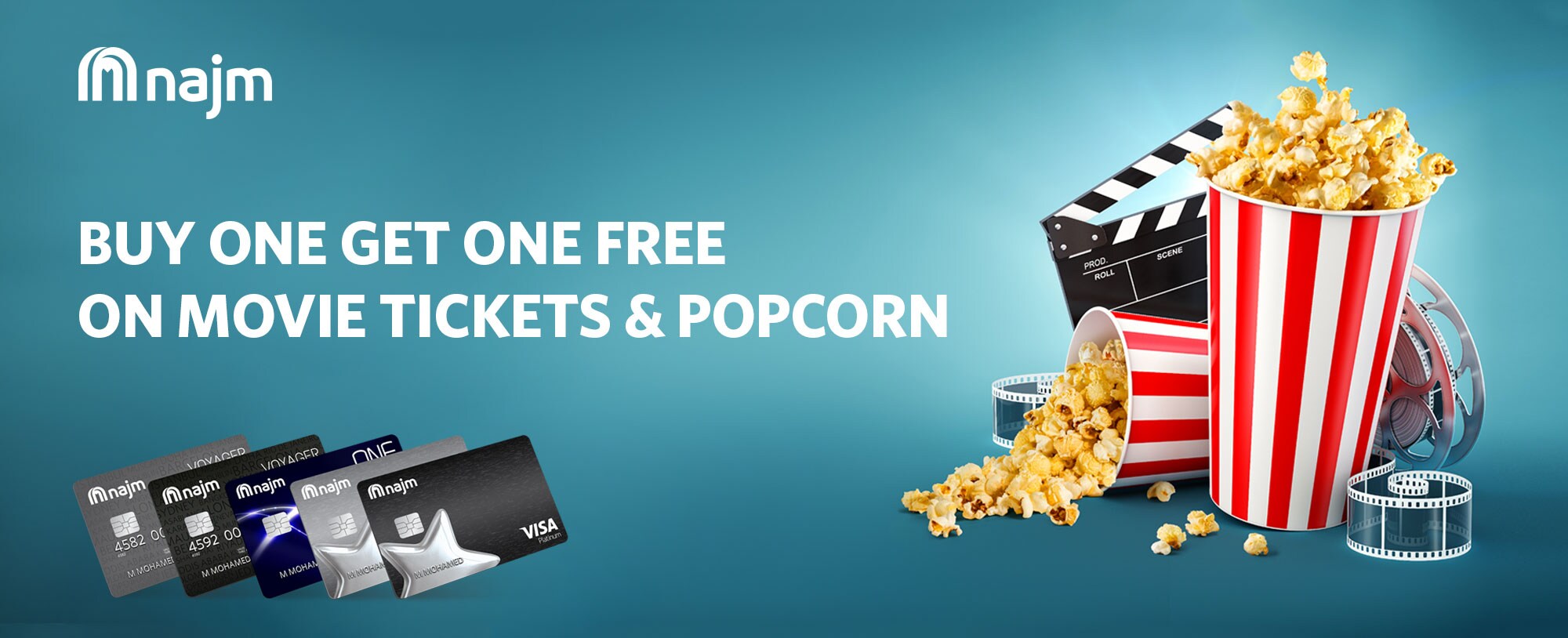 NAJM - BUY 1 TICKET GET 1 FREE
Use your Najm Credit Card to buy a ticket at VOX Cinemas and get another one absolutely FREE!
To avail the offer, please follow these steps:
Select your movie session
Log in as a VOX member. Please note that the offer cannot be redeemed if you check out as a guest
Verify your Najm card on the ticket offer step
Select your seats
Pay with your Najm Credit Card: Najm Platinum Plus, Najm Gold, Najm Silver, Najm ONE, Najm Voyager Signature, Najm Voyager Platinum and Najm Voyager Gold Cards.
In case your Najm credit card number has changed to a new one, please update the new Najm credit card details on the payment section at the time of purchase online/mobile app to avail the offer
Terms and conditions:
The offer is valid for UAE issued credit cards, including Najm Cashback Platinum Plus, Najm ONE, Najm Voyager Signature and Najm Voyager Platinum Cards.
A maximum of 2 free tickets per month can be availed under this offer. If any additional free cinema tickets are collected, then the cost of these will be charged back in full to the customer within 60 days from the date of purchase.
The free ticket needs to be utilized along with the paid ticket for the same session and cannot be carried forward to any other session on that day or another day
Customer needs to choose two tickets to avail the offer.
The offer is available on all 2D, 2D Premium View, 3D, 3D Premium View, 2D MAX, 2D MAX Premium View, 2D MAX ATMOS, 3D MAX, 3D MAX Premium View, 3D MAX ATMOS and 2D and 3D STD premium, 2D and 3D Premium View (Mercato and Nation Towers). The offer is not available for MAX 1 screen at City Centre Deira, IMAX, GOLD, THEATRE or 4DX tickets
Najm credit cardholders are eligible for one free medium popcorn when a medium popcorn is purchased. Please collect your online tickets at the candy bar counter to collect your popcorn voucher
Customers must purchase tickets through the Najm ticket offer to be able to avail the popcorn offer
This BOGOF offer is valid on a maximum of two (2) free medium popcorns in a month subject to the movie tickets purchased on the same card
For Najm Cashback Platinum cards, the BOGOF offer is valid on a maximum of two free popcorns a month.
This offer is not valid in conjunction with any special promotion, private screening or premiere at VOX Cinemas
Tickets purchased on the date are non-refundable and non-transferable
Najm reserves the right to withdraw this offer at any time and without notice
Offer is only valid for ticket purchases via voxcinemas.com or through the VOX Cinemas' app
In compliance with government regulations, and following our own comprehensive health and safety assessment, Dubai, Abu Dhabi, Ajman, Al Ain, Ras Al Khaimah and Sharjah have reopened.
Guests of all ages are permitted at VOX Cinemas in Dubai, Abu Dhabi, Al Ain, Ajman, Ras Al Khaimah and Sharjah.
It's now mandatory for guests to wear a face mask at all times. The mask can be removed for the purpose of eating and drinking.
For more information about your health and safety, please refer to the FAQs.