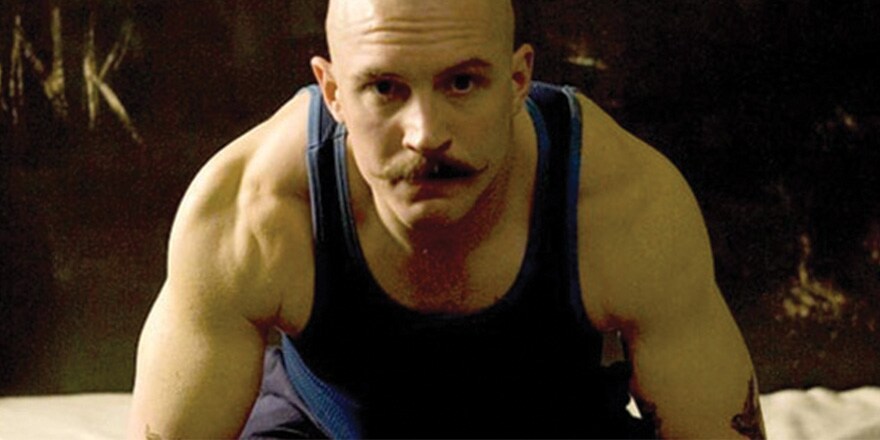 The Best Tom Hardy Movies
British actor Tom Hardy is undoubtedly one of the most versatile, adaptable, and talented actors of his generation. From playing both Kray twins in the gritty drama Legend and the twisted Marvel superhero Venom to his extraordinary performance as caged criminal Charles Bronson, Hardy can play any and every role presented to him.
It's hard to narrow down the best Tom Hardy films, as his range is so diverse that he crosses genres and delivers flawless performances every time. But to help introduce you to the world of this exceptional actor, we've put together a list of the top ten Tom Hardy films as voted for on IMDb. Prepare to meet a myriad of characters with their own unique flaws and multi-faceted personalities, all sublimely portrayed by a giant of the acting profession.
1. Mad Max: Fury Road – 2015
Mad Max: Fury Road is a brilliant and visually stunning revival of the original Mad Max films. The storyline may veer away from the original 'Road Warrior' theme occasionally, but Tom Hardy as Max delivers a blistering performance alongside Charlize Theron as they dodge henchmen in a high-speed chase across an apocalyptic wasteland. Also starring Hugh Keays-Byrne and Nicolas Hoult.
2. Inception – 2010
While this is one of Tom Hardy's more minor roles, he still manages to dominate every scene he's in. Inception is a sweeping combination of science fiction and film-noir, where a thief with the ability to steal secrets by using dream-sharing technology finds himself facing dangerous enemies and a rapidly unravelling world. Inception is complex, powerful, and unlike anything else you've ever seen. Also starring Leonardo DiCaprio, Joseph Gordon-Levitt, Elliot Page and Ken Watanabe.
3. Dunkirk – 2017
The true horror of the Dunkirk landings cannot really be contemplated by those who weren't there. But this sweeping historical biopic does as good a job of conjuring up the terror of war aunlike any other film you'll ever watch. Heartbreakingly sad, packed with action, and with incredible character developments, it's a magnificent example of cinematic artistry. Everyone knows the story of the awe-inspiring rescue of thousands of troops from the beaches of Dunkirk. Hardy and his stellar co-stars bring the story back to life over 75 years after it happened. Also starring Fionn Whitehead, Jack Lowden, Harry Styles, Cillian Murphy and Kenneth Branagh.
4. Batman: The Dark Knight Rises – 2012
Tom Hardy's ability to play complex, seemingly 'bad guy' roles and imbue the character with genuine appeal is rarely demonstrated so ably than in his portrayal of Bane. Examining the relationship between good and evil when all the characters involved are fundamentally flawed, The Dark Knight Rises is widely regarded as one of the best Batman films and one of Tom Hardy's best outings. Also starring Christian Bale as Batman, Anne Hathaway and Gary Oldman.
5. The Revenant – 2015
Once again, Tom Hardy stars alongside Hollywood A-lister Leonardo DiCaprio in a visually stunning and bleakly beautiful wilderness drama. Set in 1823, it's a tale of survival in the harshest of conditions where human beings are as big a danger as the wildlife. Hardy takes on the role of villain and is relentlessly tracked by the wounded DiCaprio in a terrifying tale of vengeance and the brutalities of frontier life. Also starring Domhnall Gleeson, Paul Anderson and Will Poulter.
6. The Drop – 2014
In this slick crime thriller, all Hardy's character Bob wants is a quiet life running a bar. The trouble is that the local mobsters use his bar as their bank. When it gets robbed, things get anything but quiet for Bob and his new love interest, Nadia. It is a complex, multi-layered film composed of more than just the usual 'crime caper' elements. Also starring Noomi Rapace as Nadia, James Gandolfini and Matthias Schoenaerts.
7. Warrior – 2011
Tom Hardy's love of martial arts is well known, and he regularly competes in Brazilian Jiu-jitsu contests. In Warrior, he delves into the violent and passionate world of Mixed Martial Arts or MMA. But Warrior isn't just another MMA film; it goes much deeper into the relationship between two estranged brothers, their alcoholic father, and the road to redemption and rebuilding family relationships. This is an outstanding film and one of the best Tom Hardy movies you'll ever watch. Also starring Nick Nolte and Joel Edgerton.
8. Bronson – 2008
If there is one film that truly demonstrates Tom Hardy's incredible ability to 'become someone else', it's Bronson. Based on the true story of one of the UK's most notorious and violent prison inmates, Bronson is a true tour-de-force of Hardy's acting from start to finish. It can be a tough film to watch, and it's an emotionally bleak and powerful movie with Tom Hardy front and center for every second. A defining performance and one of the best Tom Hardy movies of all time. Also starring Kelly Adams and Amanda Burton.
9. Legend – 2015
The Kray twins were notorious East London gangsters who ruled the toughest part of London with an iron fist in the 1960s. In this biopic of the twins' lives, Tom Hardy plays both Ronnie and Reggie Kray in an exceptional performance that's as slick as it is disturbing. Playing complex, unbalanced and emotionally chilling characters seems to be a forte of Hardy. In Legend, he provides clear dividing lines between the two brothers and their own uniquely violent tendencies. It's a superb film that pushed Hardy to the limits and was also a physically demanding film for one actor to take on both lead roles. Also starring Emily Browning, Paul Bettany and Christopher Eccleston as detective 'Nipper' Read.
10. Locke – 2013
Our final choice for the top Tom Hardy movies is a claustrophobic thriller. Set over a single night and taking place primarily in the lead character's car, Locke is an emotional rollercoaster where a successful and seemingly dedicated family man has his life turned upside down by a single phone call. Similar in its construction to films such as 'Phone Booth', it concentrates the action into a far more focused point, giving every scene greater power and impact. Also starring Ruth Wilson, Andrew Scott, and Olivia Coleman.
So which do you think are the best Tom Hardy movies? With a back catalogue of films as diverse as Venom to roles in critically acclaimed films such as Layer Cake and Black Hawk Down, Tom Hardy movies span the entire repertoire of genres. Time to break out the popcorn, settle down, and treat yourself to a marathon of popular Tom Hardy movies.
Click the link and grab new movie tickets and enjoy VOX Cinemas. Follow us on Facebook, Twitter, and Instagram to stay up-to-date on the latest movie news and check back here for more VOX Voice articles.