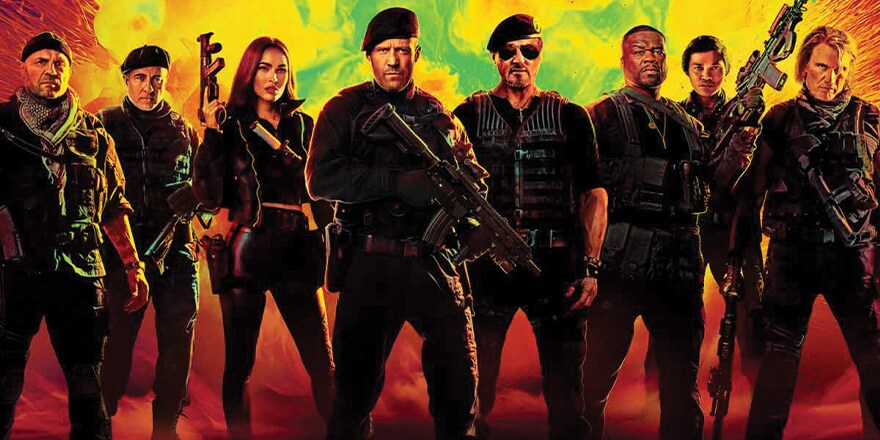 The Expendables Movies in Order and Cast
If you're looking for a franchise that specialises in BIG explosions (and we do mean BIG), you can't get much better than The Expendables. Led by Sylvester Stallone, this four-part series brings together every action hero you can imagine and then throws in a few big names, such as Jet Li and Harrison Ford. They're loud, incredibly violent, and so much fun you can do a full marathon of all The Expendables movies in one go.
Here's our quick guide to The Expendables movie cast lists, as well as The Expendables release dates and the movies in order. And even if you don't want to watch part one to four in order, you can still enjoy each stand-alone story in any order you want.
The Expendables – 2010
In order of their release date, this first of The Expendables movies introduces us to the core cast: Sylvester Stallone, Jason Statham and Dolph Lundgren. From the outset, it's clear that this bunch of renegades don't play by the rules and are more than capable of dispatching an entire army without breaking a sweat. A CIA operative hires the team to take out a Central American dictator and a rogue CIA agent.
But double and triple crosses slow the team at every opportunity, putting each member in danger. The action comes thick and fast, and the final battle scene is breathtakingly epic. Also starring Randy Couture, Steve Austin, Terry Crews, Bruce Willis, and the legendary Arnold Schwarzenegger (blink and you'll miss him in this first film). Directed by Sylvester Stallone.
The Expendables 2 – 2012
In what should be a relatively simple operation, the mysterious Mr. Church (Bruce Willis) reunites The Expendables once again, but when one member of the team is murdered in front of them, the whole team goes on the warpath against a formidable enemy. Deep behind enemy lines and with no support, they have to fight their way out. Also starring Liam Hemsworth, Randy Couture, and Jean-Claude Van Damme as a truly chilling bad guy that shows off the acting chops of the 'Muscles from Brussels'. Directed by Simon West.
The Expendables 3 – 2014
Third in the list of The Expendables movies in order is this non-stop action adventure with, not one, but two, Expendables teams mixing it up with a terrifyingly dangerous and malicious Conrad Stonebanks (Mel Gibson). Arms dealer Stonebanks is wanted by the CIA to face war crime charges in The Hague
However, Stallone's character decides to retire his old team and bring in some new blood on the advice of CIA handler Harrison Ford. Obviously, this doesn't go to plan, and the old crew has to step in to rescue the young guns and help Stallone face down his old adversary and one-time partner, Gibson. Also starring Antonio Banderas, Ronda Rousey, Wesley Snipes and Kelsey Grammer. Directed by Patrick Hughes.
The Expendables 4 – 2023
Brand new and more explosive than ever, The Expendables 4 is a non-stop action thriller that leaves the previous three films gasping for breath. A new generation of mercenaries join some of the old guard as the 'last line of defence' when all else fails. However, with new blood comes new ideas, and if Stallone thought he had his hands full with the last lot, he's going to long for a quiet retirement on a tropical island after trying to keep these young pups under control. Also starring 50 Cent, Megan Fox, Iko Uwais, Andy Garcia and Tony Jaa. Directed by Scott Waugh.
Click the link and grab new movie tickets & check our movie tickets offers to enjoy VOX Cinemas. Follow us on Facebook, Instagram, TikTok, X and Threads to stay up-to-date on the latest movie new and check back here for more VOX Voice articles.