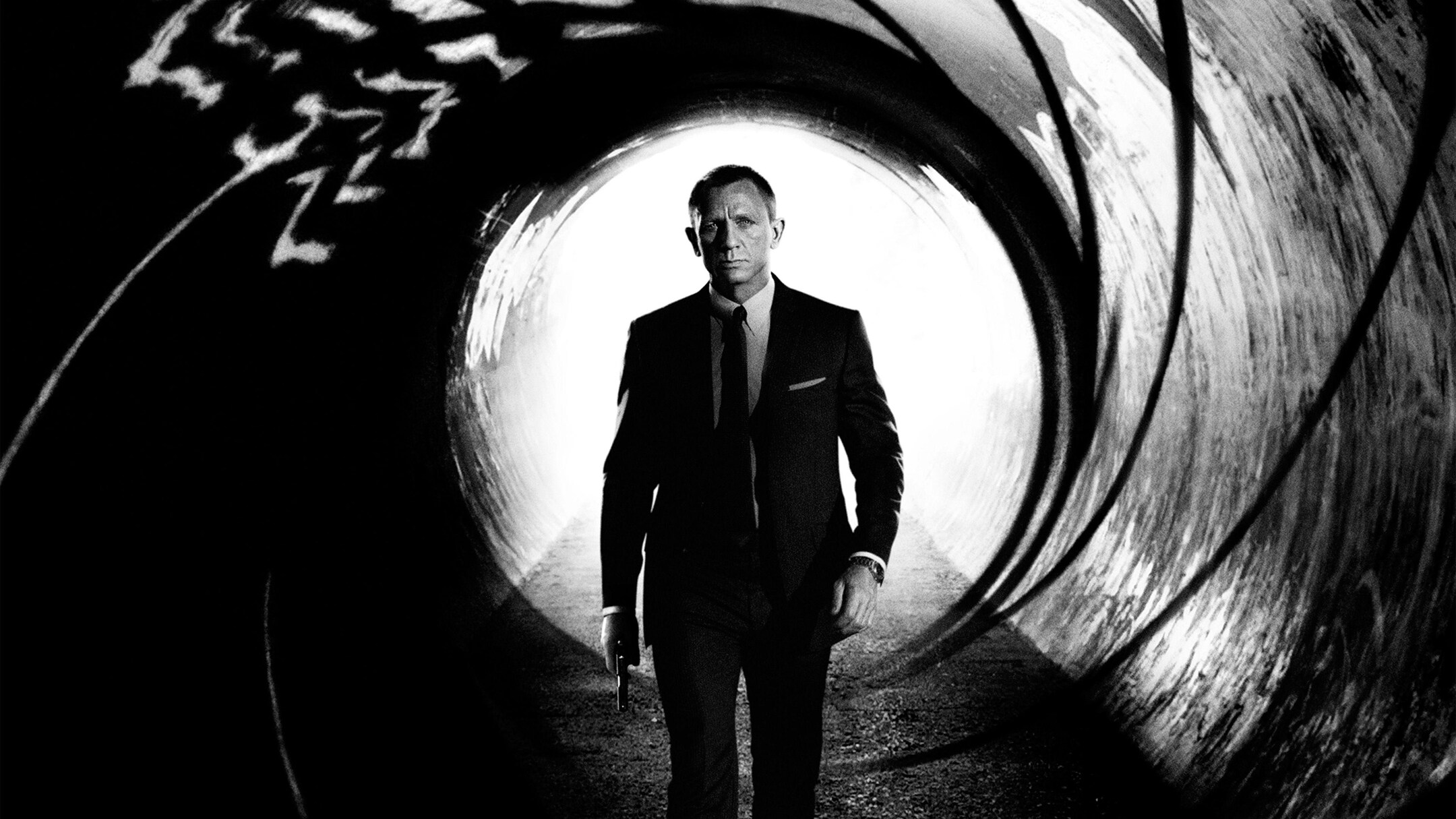 Licensed to Thrill – The 'James Bond' Movies in Order
It's the ultimate action-movie franchise and one that (so far) has seen six different actors play the iconic role. James Bond is the quintessential spy, and over an incredible six decades, the best James Bond movies have entertained millions of film lovers.
Our list of the James Bond movies in order will take you through every film to date, right up to the latest James Bond movie released in 2021. There are some animated James Bond movies out there too, but this list focuses on the live-action, no-holds-barred, cinematic powerhouses in action films.
1. Dr No (1962)
From the moment that Ursula Andress walks out of the ocean in that bikini, you know this is going to be a classic. One-liners and spy battles abound against the mysterious Dr No who is intent on destroying the US space program for his own ends. Starring Sean Connery, Joseph Wiseman and Jack Lord.
2. From Russia with Love (1963)
Connery's second outing as Bond in this cold-war thriller sees the 007 franchise really get into its stride. Stealing a Russian code machine, Bond dodges bad guys and bombs in a bid to get it back to MI6. Also starring Daniela Bianchi, Robert Shaw and Lotte Lenya.
3. Goldfinger (1964)
This is the film that introduced us to Bond's iconic drink – shaken not stirred, of course. Meanwhile, Goldfinger is intent on taking control of the world's gold supply, and it's up to Bond to stop him. A high-octane film and one of the best James Bond movies of all time. Also starring Gert Fröbe, Honor Blackman, and Shirley Eaton.
4. Thunderball (1965)
SPECTRE, a ficitional organisation, makes a big splash in this action-packed film with bouts of humour to lighten up some dramatic and violent set pieces. Bond has to recover two hijacked nuclear warheads before SPECTRE can unleash death and destruction. Also starring Claudine Auger, Adolfo Celi, and Luciana Paluzzi.
5. You Only Live Twice (1967)
Perhaps one of the less highly regarded of the entries on our James Bond movie list, the implausible story is rescued by some outstanding special effects for the time, as well as the quintessential Ernst Stavro Blofeld bad guy played by Donald Pleasance. It's Connery's fifth outing as Bond and also stars Akiko Wakabayashi and Tetsurô Tanba.
6. Casino Royale (1967)
Veering wildly away from the run of James Bond movies is this bizarre comedy that's a wacky parody of the genre. Laughs are a little limited, though, despite a stellar cast that includes Peter Sellers, Ursula Andress, David Niven, Woody Allen and Orson Welles.
7. On Her Majesty's Secret Service (1969)
George Lazenby's only outing as Bond is a very underrated offering and well worth watching. Bond battles SPECTRE once more and also loses his heart to the feisty Tracy Di Vicenzo, played by Diana Rigg. The final scene will bring a tear to your eye. Also starring Telly Savalas and Gabriele Ferzetti.
8. Diamonds Are Forever (1971)
This outing from Sean Connery sparkles as brightly as the diamonds at the centre of the storyline, with razor-sharp wit from Bond and a feisty performance from Jill St John. A few unintentional laugh-out-loud moments add to the fun factor of the eighth James Bond film, with a cracking theme song by Shirley Bassey. Also starring Charles Gray and Lana Wood.
9. Live and Let Die (1973)
A new Bond takes the reins in this entertaining romp through the Louisiana swamplands, as Roger Moore slips comfortably into Connery's shoes as the suave secret agent. Famous for launching the career of Jane Seymour, it's an action-packed film with Moore's signature humour lifting the mood. A great fun Bond film. Also starring Yapet Kotto and Clifton James.
10. The Man with the Golden Gun (1974)
Roger Moore's second outing as Bond is an entertaining duel between the secret agent and the deadly assassin and evil mastermind Francisco Scaramanga, brilliantly played by Christopher Lee. The action reaches its climax with a sinister duel between the two men. Also starring Herve Villechaize as Nick Nack and Britt Ekland as Mary Goodnight .
11. The Spy Who Loved Me (1977)
With one of the most iconic opening sequences that sets the standard for all future 'ski chases', this Bond film has a strong storyline and a glittering supporting cast. With big set pieces that pile on the action right to the end, this is one of the best James Bond movies on the list. Also starring Barbara Bach, Curd Jürgens, and Richard Kiel.
12. Moonraker (1979)
Bond heads into space for one of the franchise's more extreme plot lines. The action is non-stop, the one-liners are hilarious, and while you may have to suspend belief for a couple of hours, Moonraker deserves its place on any list of the best James Bond movies for sheer entertainment value. Also starring Lois Chiles, Michaël Lonsdale and Richard Kiel.
13. For Your Eyes Only (1981)
A surprisingly underrated film compared to some of the more bombastic outings, this excellent James Bond movie sees Moore in fine form and turning in an excellent performance that explores the more brooding, darker side of the character. The final battle is still edge-of-the-seat stuff that makes this one of the more refined additions to the list of James Bond movies. Also starring Carole Bouquet, Topol and Lynn-Holly Johnson.
14. Octopussy (1983)
A super-rich, mysterious femme fatale, a circus, a nuclear bomb – what more could you ask for in any list of the best James Bond movies? Bond meets his match in Octopussy who doesn't realise she's being manipulated by the fabulously over-the-top evil Russian general Orlov, played by Steven Berkoff. Some excellent set pieces, sharp dialogue and a thrilling ending make this a highly entertaining film. Also starring Maud Adams, Louis Jourdan, Kristina Wayborn and Kabir Bedi.
15. Never Say Never Again (1983)
Sean Connery returns one last time as Bond, as he battles the fiendish plots of SPECTRE. Connery is much more reserved in his final outing as the British secret agent, but turns in a memorable performance that, despite plenty of action sequences, is a very understated but perhaps more sophisticated addition to the franchise. Also starring Edward Fox, Klaus Maria Brandauer, Barbara Carrera and Max von Sydow.
16. A View to A Kill (1985)
Roger Moore's final outing is a wonderfully over-the-top romp that puts California's Silicon Valley in mortal peril by the demented plans of Max Zorin played by Christopher Walker. From French chateaux and adrenaline-fuelled horseback chases to an interesting switch of allegiance right at the very end by the Amazonian May Day played by Grace Jones, this is an entertaining film from start to finish. Also starring Tanya Roberts, Patrick Macnee and Patrick Bauchau.
17. The Living Daylights (1987)
Timothy Dalton takes over the mantle of Bond in this more sober, darker version of the character. The humorous one-liners are noticeably absent as Bond helps a Russian defector reach the West. However, the slick production and exciting set pieces keep the Bond franchise moving along. Also starring Maryam D'Abo, Jeroen Krabbé and Joe Don Baker.
18. License To Kill (1989)
Timothy Dalton's second Bond outing is even darker than his first in this film that delves deep into the psyche of the character. Bond goes rogue after his friend Felix is killed, and he tracks down those responsible, handing out justice as he goes. The fight sequences are superbly choreographed in this often-overlooked addition to the list of James Bond movies. Also starring Carey Lowell, Robert Davi, and Talisa Soto.
19. GoldenEye (1995)
Bond is handed over to the devilishly handsome Pierce Brosnan in what is considered to be one of the best James Bond movies of the lot. A fantastical plot with a darker side of betrayal and friendships keeps you on the edge of your seat from start to finish. A rip-roaring Bond movie that brings back the one-liners and humour missing from Dalton's version of Bond. Also starring Sean Bean, Izabella Scorupco, and Famke Janssen.
20. Tomorrow Never Dies (1997)
Going up against a media mogul intent on world domination, Bond teams up with the Chinese Secret Service to defeat him before it's too late. Brosnan returns as Bond with some breathtakingly impressive stunts including a motorcycle and helicopter chase that won countless awards for its technical complexity and cinematic presence. A spectacular James Bond movie that's also great fun. Also starring Jonathan Pryce, Michelle Yeoh and Teri Hatcher.
21. The World Is Not Enough (1999)
An overly complex plot and a surprising lack of humour for a Brosnan Bond movie make this a lack-lustre outing. However, the chase sequences and set pieces are exciting, and you cannot help but feel a little bit of sympathy for Robert Carlyle's villain Renard. The deeper layers of the film explore the nature of empathy, marking a departure from the usual wham-bang shoot-up of other James Bond movies. Also starring Sophie Marceau and Denise Richards.
22. Die Another Day (2002)
Brosnan's final outing as Bond sees the agent captured by North Korean agents and then battling to prove to M that he hasn't been 'turned'. The action takes Bond to the Caribbean where Special Agent Jinx, played by Halle Berry, pays homage to the seminal bikini-clad scene from the first Bond movie, Dr No. The action is non-stop in this movie, a signature of Brosnan's tenure as Bond. Also starring Toby Stephens, Rick Yune and Dame Judi Dench.
23. Casino Royale (2006)
We welcome the first 'blond Bond' as Daniel Craig takes over the role in what is a remake of the Bond story that started it all, written by Ian Flemming. Bond pits his skills at the card table against terrorist financier Le Chiffre, played with menace by Mads Mikkelsen. This Bond is edgy, violent and intense, far more in keeping with the character created by Flemming in the original books. Also starring Eva Green and Judi Dench.
24. Quantum of Solace (2008)
This time, it's personal. Bond reacts badly to the murder of Vesper Lynd, hunting down those responsible for her death. The trail leads him to Dominic Greene, played by Mathieu Amalric, and the showdown between the two is, as you would expect, truly explosive. A powerful outing by Daniel Craig as Bond, who has now made the character his own. Also starring Judi Dench and Olga Kurylenko.
25. Skyfall (2012)
One of Craig's more action-packed outings as Bond, Skyfall is one of the best James Bond movies of recent times. An explosive start sets the tone for the rest of the film, where Bond is forced to take on a ghost from M's past, intent on settling an old score. Filled with peril, superb CGI/live-action sequences, and a much sharper script, this is a must-see if you're watching the James Bond movies in order as it deals with some complex backstories. Also starring Judi Dench, Javier Bardem and Ralph Fiennes.
26. Spectre (2015)
The more recent James Bond movies take us deeper into Bond's hidden past, and this outing also reintroduces the existence of SPECTRE. The mission quickly escalates into a battle of wits between Bond and his nemesis played by Christopher Waltz. An explosive finale sets the scene for the latest James Bond movie and takes us one step closer to understanding what motivates Bond. Also starring Léa Seydoux and Ralph Fiennes.
27. No Time to Die (2021)
It took a long time for the latest James Bond movie to hit the screens, but Daniel Craig's final outing is truly shocking and explosive from start to finish. Proving that you can never retire from the spy game, Bond is dragged out of blissful retirement one last time when old CIA comrade Felix Leiter needs his help. Also starring Rami Malek, Léa Seydoux and Lashana Lynch.
Click the link and grab new movie tickets and enjoy VOX Cinemas. Follow us on Facebook, Twitter, and Instagram to stay up-to-date on the latest movie news and check back here for more VOX Voice articles.