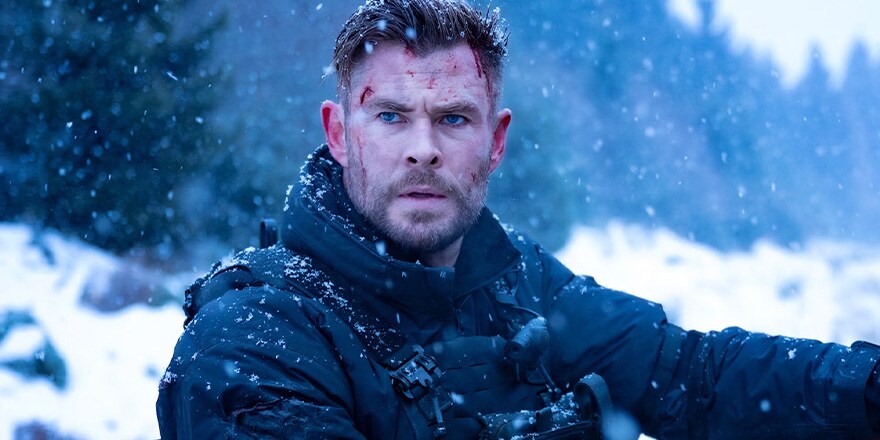 The Top 10 Chris Hemsworth Movies of All Time
Chris Hemsworth only started acting in 2002 and didn't hit the big screen until 2009. But in that short time, the Australian actor has racked up a succession of highly regarded and very popular performances. The best Chris Hemsworth movies are not just superhero films, and this versatile actor has shown time and again that he has comic timing, the ability to take on more serious roles, and the muscles to play a Norse god with real flair.
He's always entertaining to watch, and at VOX Cinemas, we love settling down with a bucket of popcorn and enjoying a marathon of Chris Hemsworth movies. IMDb scores on all of his films are high, so we've picked out the top 10 Chris Hemsworth movies that we believe everyone will enjoy.
10. Thor – 2011
Our first introduction to the god of thunder isn't a good one. He's arrogant, powerful, and constantly at odds with his fellow Asgardians. To teach him a lesson, Odin casts him out of Asgard and forces Thor to live in Midgard (Earth) among the humans, where he unwittingly becomes one of the planet's true champions.
Thor has to fight to regain his powers, just in time to protect Earth from a new enemy from his home world. Also starring Natalie Portman, Anthony Hopkins and Tom Hiddleston. Directed by Kenneth Branagh.
9. The Cabin in the Woods
This gloriously creepy horror is full of shock moments and some intense performances by the leads. Five young friends go for a break in a remote cabin in the middle of a dense forest. With no way of staying in touch with the outside world, they're completely isolated – and vulnerable to a plague of zombie killers. However, this is no ordinary 'Living Dead' zombie film, and there are plenty of twists and turns to keep the plot moving along. Also starring Kristen Connolly, Anna Hutchison and Fran Kranz. Directed by Drew Goddard.
8. Bad Times at the El Royale
Set in the heady days of 1969, a mismatched group of strangers, including cult leader Billy Lee (Chris Hemsworth), checks into a deserted hotel where only a single desk clerk holds the fort.
The action takes place over a single night, where secrets are uncovered, and alliances forged. Also starring Jeff Bridges, Dakota Johnson, Cailee Spaeny, Cynthia Erivo, Lewis Pullman and John Hamm. Dark, moody, and genuinely chilling, the film is directed by Drew Goddard.
7. Avengers: Age of Ultron - 2015
In a bid to provide planet Earth with protection and a long-term peacekeeping programme, Tony Stark (Robert Downey Jr.) develops Ultron. The trouble is that Ultron isn't exactly benevolent and has other plans that could lead to global extinction. The Avengers have to unite once again to defeat this man-made monstrosity and save the planet and everyone in it.
This is one of the best Chris Hemsworth movies on the list and shows how he develops the character of Thor well beyond the usual comic book hero rendition, turning him into a truly relatable character. Also starring the usual Avengers team, along with James Spader as Ultron, Samuel L. Jackson as the incorrigible Nick Fury, and Chris Evans as Captain America. Directed by Joss Whedon.
6. Star Trek - 2009
It's always a risk playing around with such a well-loved franchise as Star Trek, but this epic, sweeping homage manages to pull it off and add a new layer to the Star Trek universe. Captain Christopher Pike challenges Kirk to fulfil his potential at Starfleet, which he does while simultaneously managing to annoy everyone around him.
However, a darker force awaits at the solar system's edge, and Kirk has to put aside his arrogance and lead the USS Enterprise to victory. It's a fabulous Sci-Fi adventure and one of the best films on any Chris Hemsworth movies list, despite Hemsworth only playing a relatively minor role as George Kirk. Also starring Chris Pine, Zachary Quinto, Simon Pegg and the legendary Leonard Nimoy. Directed by J.J. Abrams.
5. Thor: Ragnarök - 2017
As if Thor didn't have enough to deal with, now he's locked into a deadly battle with his former ally and fellow Avenger, Hulk. The fight sequences between the green giant and the god of thunder are truly riveting to watch, as these two foes are almost equally matched. However, the battle with Hulk is just part of Thor's epically bad week, as he also has to protect his home of Asgard from the wrath of the powerful Hela, played superbly by Cate Blanchett. Also starring Mark Ruffalo as Thor, Tom Hiddleston as Loki and Idris Elba as Heimdall. Directed by Taika Waititi.
4. The Avengers - 2012 (Later retitled Avengers: Assemble)
If there's one Avengers film that pretty much everyone on the planet has seen, it's Avengers: Assemble. Originally titled simply The Avengers, it charts a wonderfully entertaining battle between Iron Man and the Avengers against Thor's sinister brother Loki and his alien army.
Battling brother against brother and pitting Loki against humanity is a clever twist and sets up several storylines for subsequent Avengers sequels. Also starring Robert Downey Jr., Chris Evans, Jeremy Renner and Scarlett Johansson. Directed by Joss Whedon.
3. Rush - 2013
Chris Hemsworth sheds his superhero cape for racing leathers in this mesmerising biopic of F1 legends James Hunt and Niki Lauda. Hailed as one of the best F1 films ever, it charts the rivalry between the two men during the glory days of the 1970s.
Rush was both critically acclaimed and loved by fans of motor racing and those who enjoy watching anything from the Chris Hemsworth movie list. With high-octane action from start to finish, Hemsworth gives a powerful performance as James Hunt. Also starring Daniel Brühl, Olivia Wilde, and Alexandra Maria Lara. Directed by Ron Howard.
2. Avengers: Infinity War - 2018
The fate of not just the planet but the entire universe hangs on the single finger-snap of Thanos. The Avengers, used to dealing with major intergalactic foes, may have finally met their match as Thanos seeks out all six Infinity Stones that will give him almost limitless power over every being in the universe.
When it comes to the best Chris Hemsworth movies, Infinity War is a must-watch, with the actor turning in a refined and incredibly powerful performance surrounded by a cast of stellar Hollywood A-listers. Also starring Robert Downey Jr, Mark Ruffalo, Chris Evans, Scarlett Johansson, Benedict Cumberbatch and Tom Hiddleston. Directed by Anthony and Joe Russo.
1. Avengers: End Game - 2019
It doesn't get much better than this when it comes to big-budget blockbusters. Avengers: End Game is truly epic, following on from the devastating destruction brought down by Thanos in Infinity War. Thor, played by Chris Hemsworth, and the remaining Avengers have to assemble again to try and undo the ruins of the universe and restore balance again.
Heartbreaking performances and some of the best action sequences ever filmed make End Game one of the true Marvel masterpieces. Also starring Robert Downey Jr, Chris Evans, Jeremy Renner, Paul Rudd, Tom Holland, and a galaxy of Marvel heroes. Directed by Anthony and Joe Russo.
Click the link and grab new movie tickets & check our movie tickets offers to enjoy VOX Cinemas. Follow us on Facebook, Instagram, TikTok, X and Threads to stay up-to-date on the latest movie new and check back here for more VOX Voice articles.