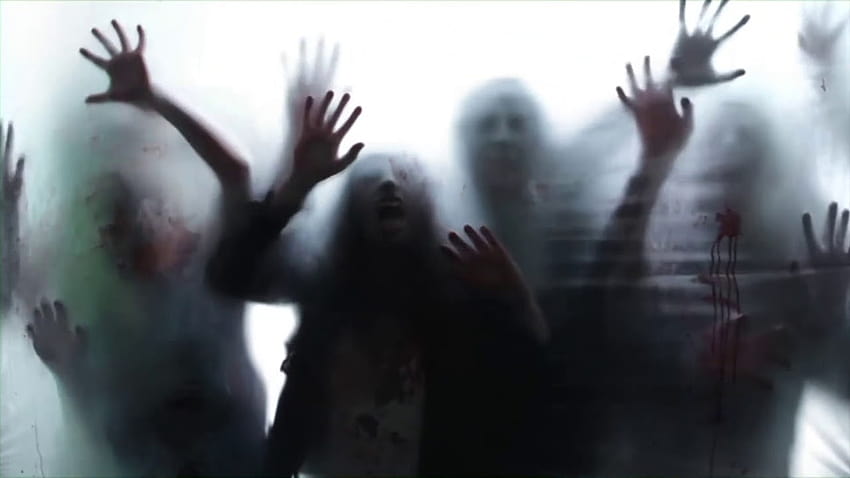 The Top 10 Scariest Zombie Movies We All Love!
Hollywood zombie movies have been delighting and terrifying audiences in equal measure for decades. From the seminal Night of the Living Dead (1968) to the hilarious Shaun of the Dead (2004), we've watched heroes and heroines dodging the shuffling undead army for decades.
If you're new to the gory delights of zombie films, we've put together the top zombie movies of all time based on their IMDb scores. There are only 10 on this list, so there are plenty more to discover – if you dare!
1. I Am Legend (2007)
Starring Will Smith, the top zombie movie of all time according to IMDb is this post-apocalyptic masterpiece by Director Francis Lawrence. A lone man, the sole survivor of a plague that has turned the rest of the population into deranged monsters, tries to find the answer to mankind's greatest challenge. His faithful dog is by his side as he dodges the zombies in a decimated and bleak cityscape and continues to work towards finding the cure for the pandemic. Also starring Alice Braga, Charlie Tahan and Salli Richardson-Whitfield.
2. World War Z (2013)
A pandemic is destroying the world's armies and governments, and humanity's survival is threatened as more succumb to the plague. The planet is spiralling towards anarchy and devastation with only tiny pockets of humanity trying to survive the onslaught. One man, played by Brad Pitt, stands against the armies of the undead and fights to save the future of mankind in a heroic battle that will keep you glued to your seat from start to finish. Also starring Mireille Enos, Daniella Kertesz and James Badge Dale. Directed by Marc Forster, this sweeping film is one of the best action-adventure films and definitely one of the scariest zombie movies of all time.
3. Zombieland (2009)
The zombie genre has produced some fabulous comedies as well as horror films, and Ruben Fleischer's Zombieland ranks as one of the best. The classic road trip film – with the addition of undead and unique characters - is a rip-roaringly funny film with jump scare moments. The characters interact with one another brilliantly with Woody Harrelson stealing every scene he's in. Also starring Jesse Eisenberg, Emma Stone and Abigail Breslin.
4. Shaun of the Dead (2004)
This British comedy horror directed by Edgar Wright is one of the finest and funniest zombie movies of the lot. Written by and starring the brilliant Simon Pegg, Shaun of the Dead tells the story of a salesman and his mate and how their mundane everyday life quickly turns upside down by a rather inconvenient zombie apocalypse. When family and friends start succumbing to the occasional infected chomp from one of the living dead, things get personal. It's time to head to the Winchester, have a pint, and wait for all this to blow over. Also starring Nick Frost, Kate Ashfield and Lucy Davis.
5. 28 Days Later (2002)
Waking up in a deserted hospital, 'Jim' has to run for his life as a terrifying plague has turned everyone around him into raging beasts caused by the misplaced good intentions of a few animal rights activists. This seminal film directed by Danny Boyle captures the desolation and sense of hopelessness of an apocalyptic disaster and gives it a distinctly human touch. The empty London streets are exquisitely filmed, and the movie is filled with a sense of the everyday world turned on its head by the folly of mankind. Starring Cillian Murphy, Naomie Harris, Christopher Eccleston and Alex Palmer.
6. 28 Weeks Later (2007)
The sequel to 28 Days Later, this film is directed by Juan Carlos Fresnadillo and takes the original storyline to the next stage. The first plague may have subsided, but that doesn't mean that attempts to repopulate will succeed. Has the Rage virus truly abated? Or could just one unsuspecting person carrying the mutated version scupper the chances of survival for a small, isolated enclave of untainted humans? Sometimes there are no happy endings, and we are doomed to make the same mistakes over and over again. Starring Jeremy Renner, Rose Byrne, Robert Carlyle, and Harold Perrineau.
7. Resident Evil (2002)
What happens when you add an out-of-control super-computer to a zombie plague? You get one of the most important zombie franchises of all time, and one of the most successful to boot! Directed by Paul W.S. Anderson, the original Resident Evil features some of the most breath-taking action sequences of the entire horror genre. A seminal film of its type and one of the best zombie movies ever filmed, Resident Evil grabs you from the very start and refuses to give you a chance to catch your breath until the end. Starring Milla Jovovich, Michelle Rodriguez, Ryan McCluskey and Oscar Pearce.
8. Dawn of the Dead (2004)
A shopping mall provides refuge for an unlikely bunch of survivors in this classic zombie movie. Outside (but not for long) are the armies of the undead, and they're not here for a bit of retail therapy. Directed by Zack Snyder, Dawn of the Dead is everything you want from a zombie movie and is pure, high-octane action from start to finish. It draws on the sense of menace from the original 1978 film of the same name, but with more sense of claustrophobia to fuel the terror. Starring Sarah Polley, Ving Rhames, Mekhi Phifer, and Jake Weber.
9. Warm Bodies (2013)
Can you have a zombie romance? Warm Bodies says yes, you can. This unusual take on the run-of-the-mill zombie genre is funny, heartwarming and a bit gory, but it ultimately shows how the human spirit can conquer any adversity. It treads a fine line between horror and rom-com but without falling into the cheesy cliché you get with the average girl-meets-boy film. Directed by Jonathan Levine, Warm Bodies is an intelligent and surprisingly upbeat zombie film that stars Nicholas Hoult, Teresa Palmer, John Malkovich and Lio Tipton.
10. Train to Busan (2016)
One of the most claustrophobic, terrifying and extreme zombie movies of all time, Train to Busan is a non-stop horror ride from Seoul to Busan. The sheer relentless action and the continual threat of death-by-zombie just beyond a thin glass sheet keep these passengers battling for survival every step of the way. Directed by Sang-ho Yeon, Train to Busan uses hand-held cameras and close-quarter combat scenes that send a chill down your spine, taking the zombie genre to a whole new level of terror. Starring Gong Yoo, Jung Yu-mi, Ma Dong-seok, and Su-an Kim.
Click the link and grab new movie tickets and enjoy VOX Cinemas. Follow us on Facebook, Twitter, and Instagram to stay up-to-date on the latest movie news and check back here for more VOX Voice articles.