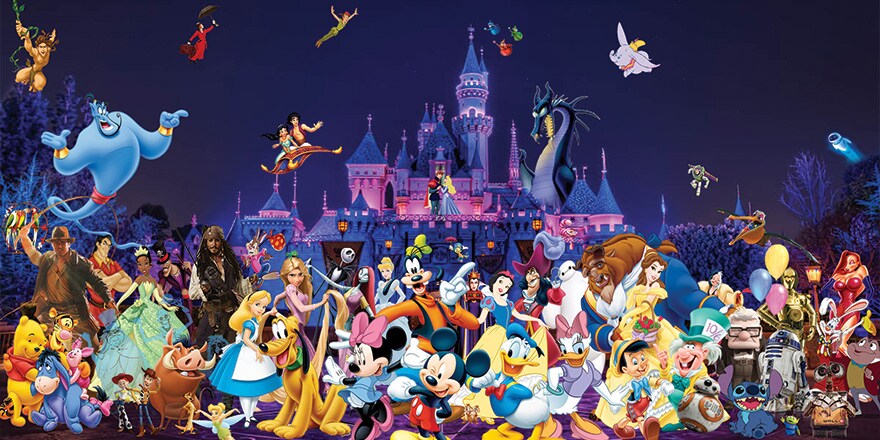 The Best Disney Movies of All Time
Disney movies are a part of all our childhoods. This colossus of the animation industry has turned out some true classics that have inspired generations of children and adults alike. Today, Disney is bigger than ever and is diversifying its content into ever-more challenging areas and continuing to offer up the finest animation movies of all time.
At VOX Cinemas, we know that our audiences adore Disney movies, so to help you pick the ones to watch, we've compiled our list of the 15 best Disney movies of all time, as scored by IMDb.
1. The Lion King – 1994
It may be just 20 years old, but The Lion King has that epic, timeless Disney movie feel from the second it starts. Fabulous animation in the classic Disney style and a powerful story about the lust for power and how it can tear families apart may seem like overly emotional themes for a children's film. But the sheer quality of the animation, the character development, and the warmth of the story will delight Disney movie fans of all ages. Starring Matthew Broderick, Jeremy Irons, James Earl Jones, and Whoopi Goldberg.
2. Aladdin – 1992
Expertly voiced by some of the finest actors in Hollywood, this remake of the classic story is shining, shimmering, splendid! The songs are bound to have everyone joining in as we travel through the myths and magic of the Middle East and the power of Aladdin's magical lamp. Featuring the voices of Scott Weinger, Robin Williams, Linda Larkin, and Jonathan Freeman.
3. Beauty and the Beast – 1991
Beauty and the Beast is a showstopping animation extravaganza. It tells the love story between a beautiful young woman and a hideous 'beast' and teaches that true beauty lies beyond external looks. A heartwarming tale with a powerful life message for younger children, Beauty and the Beast rightfully deserves its place in any list of the best Disney movies of all time. Featuring the voices of Paige O'Hara, Robby Benson, Jesse Corti, and Rex Everhart.
4. The Little Mermaid – 1989
With a wonderful feel-good story and some great songs, The Little Mermaid is a perennial favourite for Disney fans of all ages. Making a bargain with sea witch Ursula to become human and win the heart of a prince, Ariel goes through a range of emotions and adventures as she discovers not just the cost of love but the strength of family bonds too. Featuring the voices of Jodi Benson, Samuel E. Wright, Rene Auberjonois, and Christopher Daniel Barnes.
5. Finding Nemo – 2003
When it was released in 2003, Finding Nemo smashed box office records and instantly became one of the top Disney movies of all time. After Nemo is captured from his home in the Great Barrier Reef and transported to Sydney, his father has to go on a perilous journey to bring him back home. With fabulous characters and a brilliant script, Finding Nemo is one of the best Disney animations produced in recent times. Featuring the voices of Albert Brooks, Ellen DeGeneres, Alexander Gould, and Willem Dafoe.
6. Toy Story – 1995
Andy's favorite cowboy toy feels threatened by the newly arrived Buzz Lightyear in this wonderfully warm and funny film. The toys come to life whenever humans are not around and go on a series of adventures, including dodging the terrible experiments of the sinister Sid, the boy next door. Toy Story was so successful that several sequels were made, each one a box office hit in its own right. Featuring the voices of Tom Hanks, Tim Allen, Don Rickles, Jim Varney and a host of other top Hollywood stars.
7. Tangled – 2010
Based on the fairy tale of Rapunzel and her magically long hair, this new variation on the story sees a much more proactive and powerful young woman who takes charge of her destiny rather than relying on a prince to rescue her. It's a colourful, delightfully quirky take on the original tale with plenty of humour and a charming, whimsical side that balances the female empowerment message. Featuring the voices of Mandy Moore, Zachary Levi, Donna Murphy, and Ron Perlman.
8. Spirited Away – 2001
This unusual top Disney movie doesn't always get the coverage it deserves, but the Mouse House financed 10% of the production, so it's a legit entry to the company's 'best of' roster. It's a well-crafted, story-driven tale of a young girl who runs away from the everyday world and is 'Spirited Away' to a land filled with gods, witches and spirits. If there's one top Disney movie that you've missed seeing, it's likely to be this one. Our top tip is to make sure you add this to any list of must-see Disney movies, and you won't be disappointed. It features the voices of Daveigh Chase, Suzanne Pleshette, Miyu Irino, and Rumi Hiiragi.
9. Monsters, Inc. – 2001
Monsters, Inc. was a massive hit from the very first weekend of its release and continues to be one of the top Disney movies of all time. The fabulous combination of humour, the 'monster-under-the-bed' storyline, and some of the most groundbreaking animation techniques ever seen in the industry made the film an instant success. It's a heartwarming story of two monsters who have to scare children into screaming to power the city but suddenly realise that things are not quite what they seem. A stellar cast includes Billy Crystal, John Goodman, Mary Gibbs, and Steve Buscemi.
10. Big Hero 6 – 2014
Big Hero 6 was a slow starter but was critically acclaimed for its animation and storyline, making it a big hit with the public. It examines the bond between a giant inflatable robot and a group of friends who become superheroes to save their city. Drawing heavily on Japanese Anime influences, Big Hero 6 is a colourful and bold film that is a real change from the usual Disney movies. Featuring the voices of Ryan Potter, Scott Adsit, Jamie Chung, and T.J. Miller.
11. Inside Out – 2015
Inside Out takes a very unusual concept and turns it into a funny, relatable and sweet movie. After a young girl is uprooted from her life in the country to a new home in the city, her emotions come into conflict on how to deal with the situation. The twist in this movie is that her feelings are given solid characters that bounce off one another in the most delightful way. Featuring the voices of Amy Poehler, Bill Hader, Lewis Black, and Mindy Kaling.
12. Mary Poppins – 1964
There has to be at least one or two true classic Disney movies in our list of the top Disney movies of all time, and this is the first. Mary Poppins is the story of a magical nanny who transforms the lives of not just the children under her care but everyone around her. With groundbreaking animation and live-action combined to create a fairytale world, Mary Poppins rightfully won no fewer than five Oscars and a host of other awards. It is still regarded as one of the finest Disney movies ever. This sublime film is suitable for younger children and will make the adults smile as they remember the first time they tried to get their heads around 'Supercalifragilisticexpialidocious'! Starring Julie Andrews, Dick Van Dyke, David Tomlinson, Glynis Johns, Karen Dotrice and Matthew Garber.
13. Lady and the Tramp – 1955
If you're looking for an exceptional romantic Disney movie, Lady and the Tramp is a must-see. This timeless classic movie is the charming tale of a spoilt, sophisticated, uptown cocker spaniel (Lady) and a cheeky, streetwise mutt (Tramp). The odd couple team up for an adventure that puts them in real peril but also leads to a blossoming relationship beautifully captured in the subtle animation and delightful musical numbers. Lady and the Tramp was a smash at the box office in 1955 and is still regarded as one of the top Disney movies of all time nearly 75 years later. Featuring the voices of Barbara Luddy, Larry Roberts, Peggy Lee, and Bill Thompson.
14. Up – 2009
This whimsical story is a delightful examination of the relationship between an old man on an adventure of a lifetime and a young stowaway. The eager boy scout helps the grumpy man realise his dreams of visiting the forbidden Paradise Falls by attaching thousands of balloons to his house. Up is a heartwarming tale of an unlikely friendship and the incredible characters they meet on their journey. It was an unexpected hit for Disney in 2009 and continues to be one of the most popular Disney movies today. Featuring the voices of Edward Asner, Jordan Nagai, John Ratzenberger, and Christopher Plummer.
15. Frozen – 2013
And finally, no list of the greatest Disney movies of all time could be complete without Frozen. The film introduced us to a new Disney queen and wonderfully quirky characters. It also spawned a song that is played on constant repeat by young wannabe Elsas across the planet! It's also an interesting examination of the effects of climate on people, as Elsa accidentally curses her domain to an endless winter. Frozen captured the imagination of millions of children across the planet and won two Oscars in the process, making it a critical success as well as a box office hit. Featuring the voices of Kristen Bell, Idina Menzel, Jonathan Groff, and Josh Gad.
Our list of the top Disney movies doesn't end here, as Disney continues to produce new films, television and entertainment that span a wide range of genres and work suitable for all ages. These top Disney movies are an excellent place to start, with plenty of family-friendly fun and favourites that keep you coming back again and again. Whip up some popcorn, get comfy, and settle in for an afternoon of animation classics and wonderful stories from Disney.
Click the link and grab new movie tickets and enjoy VOX Cinemas. Follow us on Facebook, Twitter, and Instagram to stay up-to-date on the latest movie news and check back here for more VOX Voice articles.