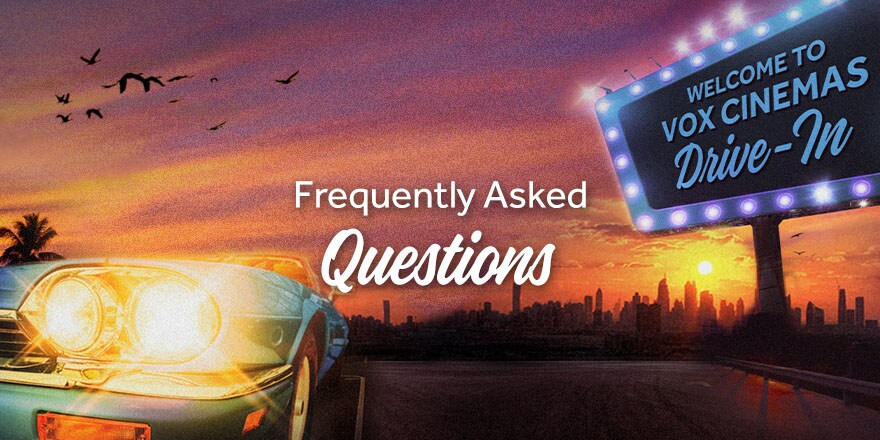 FAQ
What exactly is the VOX Cinemas Drive-In? How does it work?
The VOX Cinemas Drive-In is a first of its kind moviegoing experience for VOX Cinemas that allows guests to enjoy the magic of the movies from the safety and comfort of their own cars. The concept is brought to audiences by Majid Al Futtaim's cinema arm, VOX Cinemas, Majid Al Futtaim's Shopping Malls Business Unit, and Majid Al Futtaim's loyalty programme, SHARE.
When does the VOX Cinemas Drive-In reopen?
VOX Cinemas Drive-In will reopen to the public on Wednesday, 27 May. Bookings are now open on the website and the app.
Do tickets have to be bought per vehicle or per person inside the vehicle?
The ticket price is valid per car (maximum of two people) and costs AED180+VAT. It includes two tickets and an F&B package for two people which consists of three flavoured popcorns, one supreme nachos, two soft drinks, two water and one pack of M&M's.
Where is the VOX Cinemas Drive-In located?
The drive-in cinema is located on the rooftop parking of Mall of the Emirates (rooftop parking level 3). The movie screen is directly under the Ski Dubai slope.
Are there age restrictions in place?
Guests of all ages are permitted at Drive-In Cinemas.
What is the totally capacity of cars that can be accommodated?
Initially, while physical distancing directives remain in place, there is capacity for 72 cars with a maximum of two people per vehicle for the optimal viewing experience.
Is there a restriction to how many people are in each car?
Two customers are permitted per car to ensure an optimal viewing experience. The F&B package will also cater for two people.
How big is the drive-in cinema screen? Will viewers be able to see properly from their cars?
The big screen is 19.5m x 8.4m and is raised 4m above the ground to ensure that all guests have a clear view of the movie. To ensure unobstructed viewing, SUVs will be directed to the back rows and small cars and sedans will reserve the front rows.
How will viewers be able to hear the movie?
Once parked, motorists will be instructed to tune into a dedicated radio station frequency to receive the movie audio straight into their vehicles.
What hours will the VOX Cinemas Drive-In be operational?
There will be one movie screening each evening. Guests are advised to arrive at 7pm and the pre-show will start at 7.15pm. Screenings have been scheduled so that guests have adequate time to return home whilst abiding by the government imposed 11pm curfew.
What movies will you be screening at the VOX Cinemas Drive-In?
We will be screening a wide range of popular recent releases including Bad Boys for Life, Knives out, Birds of Prey, The Gentlemen, Bloodshot, The Way Back, Joker and 1917. The schedule will be updated every Monday and can be viewed here.
Where and how does one buy tickets for the drive-in cinema?
Bookings are now open the website and the app. It is the same booking process as buying a regular VOX movie ticket and a generous F&B for two people is included in the ticket price, which consists of three flavoured popcorns, nachos supreme, a sharing size bag of M&Ms, two soft drinks and two bottles of water.
Will each vehicle be allocated a pre-assigned parking spot?
Each vehicle will be assigned an allocated spot. Upon arrival a Majid Al Futtaim staff usher will scan the QR code provided to customers when they book and place a coloured sticker on the windshield of the car indicating a row and slot number. Traffic controllers will then guide each vehicle to its designated spot based on the colour of the sticker. To ensure unobstructed viewing, SUVs and large vehicles will be assigned a back row spot and smaller cars and sedans will have front row spots reserved.
Will the usual VOX F&B offering be available for drive-in customers?
The ticket price includes a generous F&B package for two people which consists of three flavoured popcorns, nachos supreme, a sharing size bag of M&Ms, two soft drinks and two bottles of water.
What other rules will be in place to ensure an uninterrupted, quality movie-going experience?
We've put specific measures in place to ensure guests can enjoy an immersive cinema experience. Guests are requested to turn off their headlights during the movie and to refrain from honking or flashing headlights, as a courtesy to fellow moviegoers. To minimise movement during the screening, guests are required to remain inside their cars for the duration of the movie with the exception of using the restrooms.
Is the drive-in cinema a temporary or permanent concept? How long do you anticipate it will operate for?
The drive-in concept is a temporary addition to VOX Cinemas' offering for now. We will continue to evaluate both the situation of the COVID-19 pandemic and the success of the experience before making a final decision on its future, given our desire to continue creating great moments for our customers.
Will you be launching this concept in any other Majid Al Futtaim malls?
At present we are launching the concept at Mall of the Emirates, but additional drive-in experiences will be considered in the future based upon the success of the concept in Dubai.
Will visitors of the drive-in cinema be able to access the mall restroom facilities?
Guest will be able to use the restrooms in Mall of the Emirates. A golf cart will be available to transport guests from their cars to the mall entrance. To maintain physical distancing, restrooms will operate at reduced capacity and there is instructional signage to guide guests on best physical distancing practices. The restrooms are also frequently sanitised throughout the day in line with our stringent health and safety measures.